Conservatories are a great way to increase the value of your home. Adding an extra room that brings in an abundance of natural light is a massive perk to buyers. As well as creating additional space if you're planning on settling down in your forever home.
Whether you're creating a garden room, a playroom for children or an additional living area where you can sit and read a book in peace, a high-quality conservatory is the perfect solution.
Types of Conservatory
There are a few types of styles to consider when purchasing and building a conservatory;
Edwardian and Georgian

P-shaped

T-shaped

Lean-to

Victorian

Boxgutter

Corner Infill

Gable Front 
All styles offer completely different finishes while allowing natural light to flow through your home in the same manner. The style that you choose largely depends on your budget, size and style of home, and the size and shape of the area that you're trying to fill.
Victorian Conservatories
Victorian conservatories are the most commonly used style in the UK. As the name suggests, a Victorian conservatory is very traditional in design and contains ornate fine detailing.
Three-facet and five-facet Victorian conservatories are excellent for showing off your garden and bringing in the natural light. They are designed with a bay-window feel to the front of the conservatory, which adds a beautiful dimension to the space.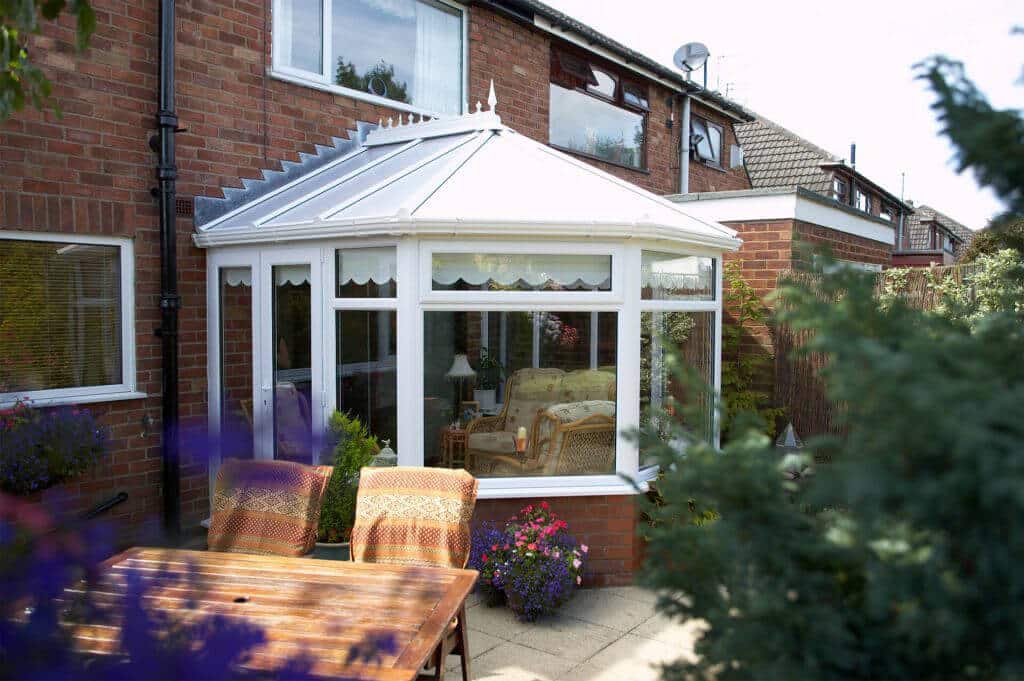 Edwardian and Georgian Conservatories
Edwardian and Georgian conservatories are classic and traditional. They're the most common style for conservatories on both period and modern properties.
Both styles are designed to fit in with defined spaces in your garden. For this reason, they're rectangular in shape and provide maximum use of floor space. To add to their elegant design, an Edwardian and Georgian conservatory has a pitched roof to elongate and open up the room to create a bright and airy space.
P-shaped Conservatories
Like the name suggests, a P-shaped conservatory is shaped like the letter P. And, is a combination of Victorian and Lean-to conservatories.
A P-shaped conservatory allows you to create two separate rooms, both of different shapes, from one conservatory installation. This type of conservatory is great for adding dimension to your home, while bringing with it the added benefit of natural light.
The shape of this conservatory lets you build onto the back of your home without completely compromising the size of your garden.
T-shaped Conservatories
Much like the P-shape, a T-shaped conservatory aims to provide an abundance of natural light without compromising on garden space.
The T-shape extends out from the back of your property and thins out into the leg of the T, giving your conservatory a porch effect.
Unlike the P-shaped conservatory, a T-shape is designed for the user to use this as one full room, instead of being able to divide the space into two separate rooms. A T-shaped conservatory creates a larger living space for your home, brings the outdoors in, all while still creating that barrier with a porch effect.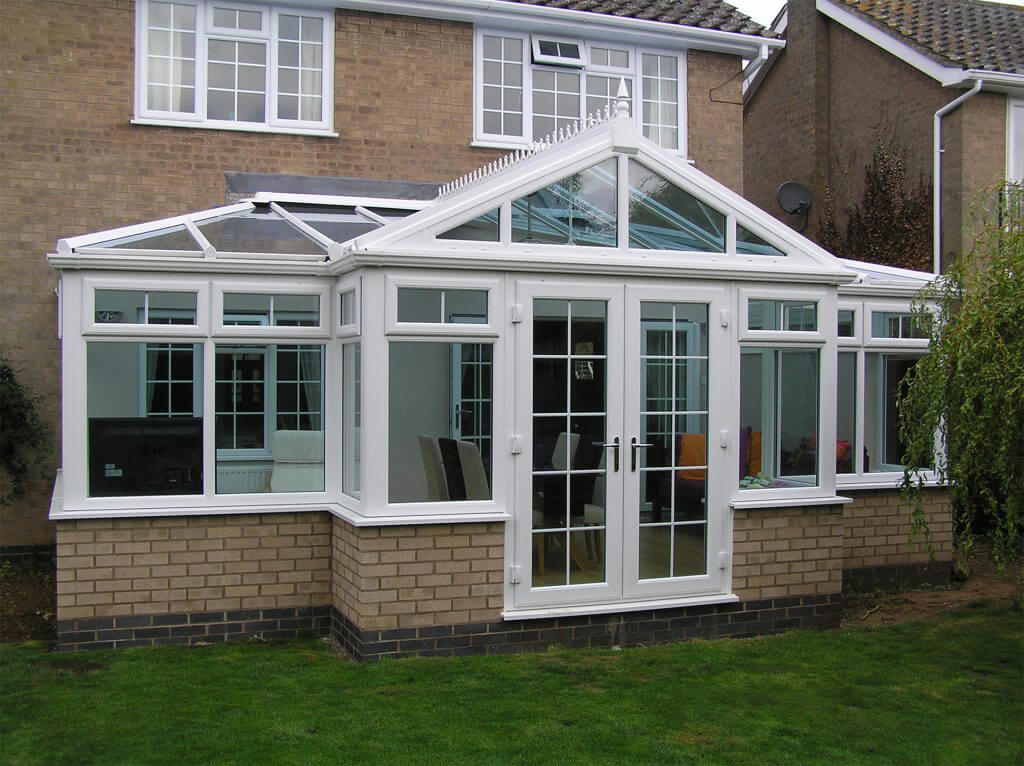 Lean-to Conservatories
A lean-to conservatory gives you the option to expand your home, even when you have limited space available.
Popular in modern homes, a lean-to conservatory compromises of a leaning flat roof, clean lines, and customisable sizes for the doors and windows.
Lean-to conservatories have many benefits to homeowners; enjoy your garden all year round, let in natural light to reduce energy bills, and create an extra living space, all within a reasonable budget.
Boxgutter
Boxgutter conservatories are perfect for practicality. If you currently suffer with drainage issues, a standard Edwardian or Victorian-style conservatory isn't ideal. A boxgutter conservatory comprises a drainage system which will drain the existing house roof and the conservatory roof simultaneously.
Victorian in design, don't let drainage issues prevent you from having a beautifully traditional conservatory.
Corner Infill
If you're on a budget, and your house-shape lends to it, a corner infill conservatory is an inexpensive style to choose. Corner infills are cheaper than most conservatories as they only require two external walls to build.
If your house is indented or you have very limited space available, a corner infill will provide extra living space without eating into the grounds of your property.
Gable Front
A gable front conservatory is perfect for any period property. The design of this conservatory is a variation of Edwardian and Georgian conservatories, and is constructed in a similar fashion to orangeries.
If you own a listed building, and want to add a conservatory for extra living space, a gable front is ideal for your property. Keeping with traditional aesthetics, gable front conservatories are highly energy-efficient and comply with current building regulations.
Conservatory Designs
The design of your conservatory is a personal choice. You want your new conservatory to match the aesthetics of your home without compromising on garden space.
Once you've chosen the desired style of conservatory, your next challenge is to pick the right material. The most common materials for conservatories are timber, uPVC and aluminium. And, while you want to pick a material that matches your home's external hardware, there are a few pro's and con's for each material that may help you decide which one to choose.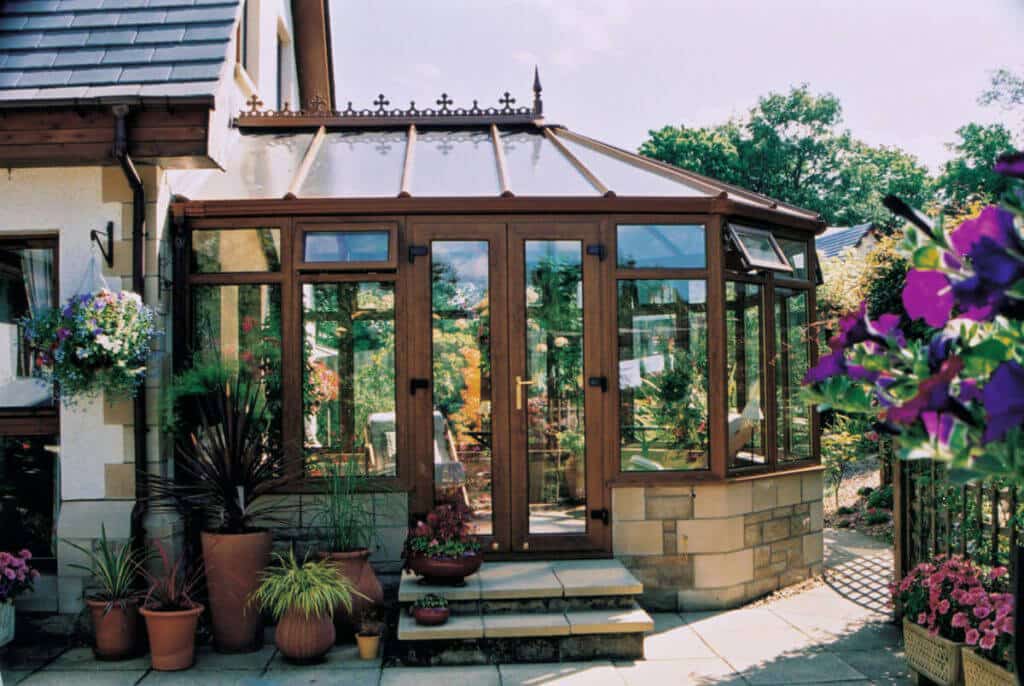 Timber
Pro's
Timber is the best material for speedy construction. Timber can be easily adjusted onsite if need be and a timber roof is very quick to put together.

Timber is aesthetically pleasing. It brings a period property to life, while creating a country-cottage vibe for modern properties.

Timber is a great choice if you aren't completely satisfied with the style of conservatory that you've chosen. As a very adaptable material, timber can be used for flat and pitched roofs, and solid and glazed roofs.
Con's
Wood rot is a fairly common issue for timber frames. If your conservatory hasn't been installed correctly or the wood has been left untreated, you could be susceptible to wood rot.

Conservatories are notorious for heat loss. If you already have insulation problems with your conservatory, erecting a timber roof unfortunately won't solve your problems.

Timber expands and contracts with temperature. Your measurements need to be precise to prevent draughts and doors sticking in the frames. Although not as noisy as uPVC, timber frames make cracking noises when they expand.
uPVC
Pro's
uPVC is extremely low maintenance. Unlike timber, uPVC doesn't need treatment for protection from the weather and can be simply wiped clean with a damp cloth.

uPVC is the cheapest option when compared to timber and aluminium. If you're on a budget, uPVC is a great choice for your conservatory.

uPVC is a very durable material. It won't warp, rot, or fade from sunlight exposure, unlike timber.
Con's
uPVC is inexpensive, but with that, comes a rather cheap look. When compared to aluminium and timber, uPVC doesn't look nearly as great as the others.

Even though uPVC is very durable and has a long lifespan, over time, uPVC can become quite brittle. If your uPVC becomes brittle, any pressure or impact could cause the uPVC to crack or break.

uPVC is plastic, and therefore isn't biodegradable. During the creation of uPVC frames, carbon emissions are produced making uPVC not environmentally-friendly at all.
Aluminium
Pro's
Aluminium conservatories look the part. Due to the sturdiness of this material, aluminium frames can be kept relatively slim meaning more natural light can enter your home.

Aluminium is a durable and tough material. Like uPVC, aluminium won't rot or warp in extreme temperatures. It also won't become damaged from sunlight and water.

Similarly to uPVC, aluminium is very easy to maintain. Aluminium doesn't need to be treated and can be wiped clean with a damp cloth or sponge.
Con's
Out of the 3 materials, aluminium is the most expensive. Aluminium does have an incredible lifespan and is very aesthetically pleasing, but it can be costly.

Aluminium can come in different forms with different price tags. By purchasing a cheaper aluminium for your conservatory you run the risk of it being inefficient. In fact, aluminium conducts heat resulting in cheaper frames allowing the heat from your home to escape.
Conservatory Roof Style
We've talked about flat and pitched roofs for your conservatory. Now it's time to look at the style of the roof. There are 3 options to choose from; solid roof, solar roof, and polycarbonate roof.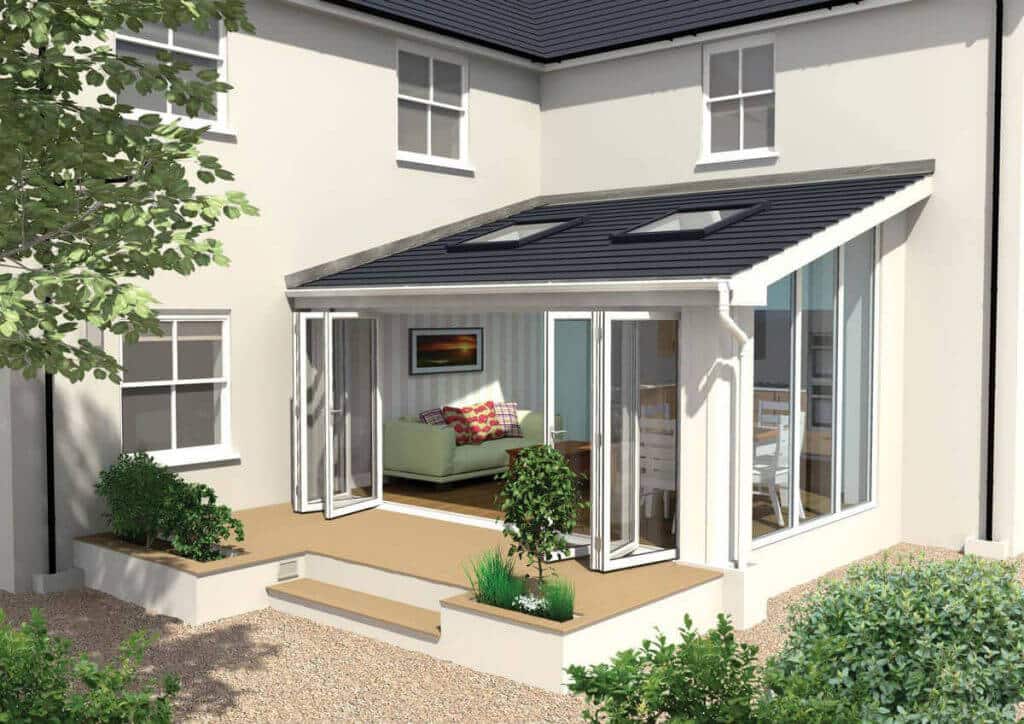 Solid Roof
A solid roof for a conservatory is a great choice if you're worried about heat loss. Solid roofs are tiled therefore boosting your thermal efficiency by up to 15 times more than standard conservatory roofs.
Because solid roofs are tiled, your conservatory will blend into the rest of your home, making them an aesthetically pleasing choice for homeowners. The tiles come in a range of sizes and colours; they're fully customisable.
The only downside to a solid roof is that they reduce the amount of natural light that you can bring into your home. However, you do have the choice to incorporate a glazed panel into the design to open up the ceiling.
Solaroof
A solaroof is one of the best roof styles for your conservatory. Each panel is glazed to allow sunlight in, but the glass is toughened so heat loss will be prevented. A thin strip of film coats each solaroof panel which acts as a UV deterrent. This strip means that the furniture and flooring in your conservatory are protected from the sun's rays and won't fade in colour.
The downside to a solaroof is that the wafer-thin film can give off a slightly silver colour. This is only a downside to those who don't find the colour aesthetically pleasing.
Polycarbonate Roof
A polycarbonate roof is the most common style for conservatories. It can be customised in a range of colours. The polycarbonate is relatively thick to make it strong, withstand harsh weather and to give it more stability. It also offers the same features as a glass roof would without the risks associated with using glass.
The downside to polycarbonate is that, although it's thermally efficient, a solaroof and solid roof is a lot more so. It also doesn't have much protection from the heat from the sun and UV rays.
Glazing Options
There are many different types of glazing options for conservatories. This area is one that you need to really consider as glass takes up the majority of your conservatory. You need to ensure that the glass is energy efficient, durable and secure.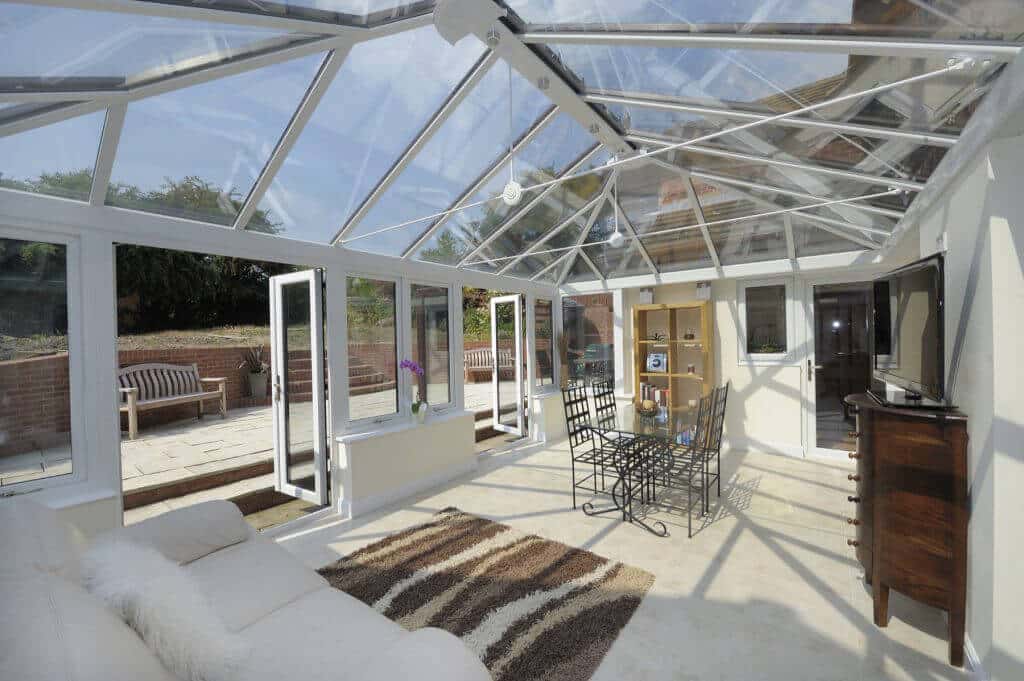 Double and Triple Glazing
Double and triple-glazed glass is the most common and highly-recommended form of glass for your conservatory. The extra panes of glass provide added insulation to your conservatory. This results in less heat escaping, and in turn, improves your energy bills.
Heatlock Glass
Heatlock glass has a low E coating inside a double-glazed pane. This coating reflects escaping heat back into the home resulting in lower energy bills.
Solar Glass
Solar glass is similar to the function of a solaroof while being the exact opposite of heatlock glass. Solar glass has a reflective layer outside of the glass. This method means that the sun's rays find it difficult to penetrate through the glass. This is ideal for conservatories that may overheat in the summer sun.
Anti-sun Glass
Anti-sun glass protects the interior of your conservatory from the sun's UV rays. The glass is tinted in a very subtle shade of blue which reduces the flow of harmful UV rays. It's suggested that anti-sun glass reduces over 90% of the UV rays while reducing the glare by 60%.
Things to Consider When Buying a Conservatory
Buying a conservatory is a great way to add an additional room to your home, while increasing the value of your property. However, there are a few things to consider before purchasing a conservatory:
The foundations of where the conservatory is going to sit

You have the space available for a conservatory

Will a conservatory work with the home's aesthetics and the outdoor space

Do you have the budget for a conservatory

Does the style and conservatory-type improve or worsen your energy-efficiency

Do your research and buy from a reputable company.

Don't compromise quality over price