Security
At Emerald, we understand that our customer's highest priority is feeling safe and secure in their own home. That is why we manufacture all of our products with safety in mind.


All Emerald windows and doors are supplied by Duraflex, a manufacturer that has been trading for over 50 years and is renowned for manufacturing premium quality products as robust as they are visually appealing. All of our windows and doors are supplied either with the Duraflex SAC Shootbolt locking system or a Yale locking system, depending on the customer's preference. The Duraflex SAC Shootbolt locking system not only meets the standards set by the Secured By Design initiative, it actually exceeds them by 50%. Yale is an industry leader in innovation and security and will provide your home with maximum security, instantly allowing you the peace of mind to enjoy your Emerald products. Yale is fully approved by the Secured By Design initiative, which is a UK national police force initiative which supports the principles of "designing out crime" and is backed by the Home Office Crime Reduction unit, the DETR and Local Government. With this security built into our products, you can rest assured that your Emerald products will not only look pristine, but also provide you with optimum security.
Emerald A-Rated Glass
At Emerald we manufacture all of our products using the highest quality glass from Pilkington, a low-emissivity (Low-E) glass which carries an A-Rated Energy rating with the British Fenestration Rating Council (BRFC). The BFRC Scheme is the UK's national system for rating the energy efficiency of windows and is recognised within the Building Regulations as a method to show compliance for your replacement windows installation. Window Energy Ratings use a consumer-friendly traffic-light style A-E ratings guide, which allow consumers to make informed choices about the energy efficiency of the windows you are looking to purchase. All Emerald products have an 'A' rating and offer you the following benefits:
Improves the energy efficiency of your home
Reduces the amount of energy you use
Saves you money on your heating bills
More effective than single glazing or standard double glazing
Provides you with the reassurance of Pilkington quality
Manufactured to the highest European quality standards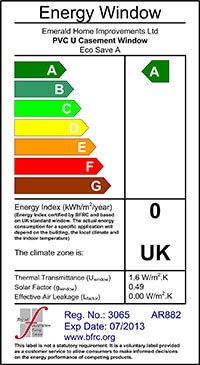 Typical U-Values
In the UK we express the rate of heat loss in "U Values". The lower the U-Value the greater the thermal insulation and savings on your fuel bills. The U-Value of single clear glass is 5.4. With ordinary double glazing this is improved to 2.6. With Low-E Glass the U-Value is reduced to 1.8. Low-E Glass is a type of insulating glass that helps keep homes warmer in the winter and cooler in the summer.  
How does low emissivity glass work?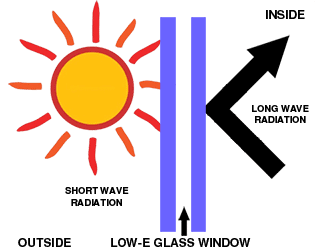 Low-E glass has a special metal coating on one side: either pyrolytic (hard coat) or sputtered (soft coat). The microscopically thin and almost invisible coating acts as a filter, blocking long wave radiation (infra-red heat) and letting in short wave radiation (ultra violet and visible light). When the sun's short wave radiation passes through a window into a room, it is absorbed by the carpet and furniture in the room. That energy is then transformed into long wave (thermal) radiation in the form of heat, i.e. the sun warms up the carpet and furniture in the room. During the winter, heat (long wave radiation) in the room naturally wants to escape through the glass in the windows but Low-E glass reflects it back into room, keeping the room warm. If you touch a standard pane of glass in the winter it feels very cold, even if the room itself is hot. But if you touch a pane of low emissivity glass in the winter it feels much warmer. During the summer months it is hot outside, but Low-E glass does not let the infra-red thermal radiation (long wave) pass through it, reducing the overall solar heat gain of the building.
How is Low-E glass manufactured?
There are two types of Low-E glass: hard coat and soft coat.
Hard coat Low-E glass has a thin layer of molten tin poured over it whilst the glass is still slightly molten. The tin welds to the glass making the coating very strong and difficult to scratch or remove. Soft coat Low-E glass has silver, zinc or tin applied to it in a vacuum chamber filled with an electrically charged inert gas. Molecules of the coating metal are sputtered on to the surface of the glass where they stick. This coating is very easy to scratch, therefore the coated side is always used on one of the inner faces of the double glazing, where the argon gas held between the panes prevents oxidisation.
Emerald's Environmentally Friendly uPVC Products
At Emerald we use uPVC for all of our products that is manufactured by Duraflex, who are fully committed to producing environmentally friendly products by:
Exercising due care in waste disposal produced as a result of company activities, developing plans to reduce waste, and increase efficiency.
Taking practical steps to prevent pollution, to reduce energy, raw materials, water consumption and waste.
Encouraging the re-use of material wherever feasible, when it does not compromise product or service.
Aiming to reduce impact on the environment and implement environmentally responsible policies/products throughout their operations.
Minimising their environmental footprint, by working towards sustainability.
Quality matters
Emerald holds a number of accreditations from recognised authorities:

BS7412: SPECIFICATION FOR PLASTIC WINDOWS MADE FROM uPVC EXTRUDED HOLLOW PROFILES This kite mark confirms that the products are manufactured to a standard set by the BSI. This also covers severe weather rating, a water and air tight windows. BS7413: SPECIFICATION FOR WHITE uPVC EXTRUDED HOLLOW PROFILES WITH HEAT WELDED CORNER JOINTS FOR PLASTIC WINDOWS: MATERIAL TYPE 'A' This kite mark indicates that our profile is of the highest quality. It won't rot. warp, discolour or go brittle. A certificate of ts durability, it uses high impact, grade 1 uPVC. BS5713: SPECIFICATION FOR HERMETICALLY SEALED FLAT DOUBLE GLAZED UNITS A double seal ensures that no breakdown of the unit should occur, a sealed unit which will last the test of time, retaining heat and reducing both noise levels and condensation. BS6262: CODE OF PRACTICE FOR GLAZING FOR BUILDINGS A recommendation by the BSI to confirm that emerald install toughened safety glass where applicable, other companies charge for this but Emerald fit it as standard. BS 6206A: SPECIFICATION FOR IMPACT PERFORMANCE REQUIREMENTS FOR FLAT SAFETY GLASS AND SAFETY PLASTICS FOR USE IN BUILDINGS BS 7950/7412: SPECIFICATION FOR ENHANCED SECURITY PERFORMANCE OF CASEMENT AND TILT/TURN WINDOWS FOR DOMESTIC APPLICATIONS IN ASSOCIATION WITH BS7412 BS EN 12608: uPVC PROFILES FOR THE FABRICATION OF WINDOWS AND DOORS. CLASSIFICATION, REQUIREMENTS AND TEST METHODS PAS 023-1: GENERAL PERFORMANCE REQUIREMENTS FOR DOOR ASSEMBLIES. SINGLE LEAF, EXTERNAL DOOR ASSEMBLIES TO DWELLINGS. BS 7619: SPECIFICATION FOR EXTRUDED CELLULAR UNPLASTICISED PVC (PVC-UE) PROFILES. BS 7950: SPECIFICATION FOR ENHANCED SECURITY PERFORMANCE OF CASEMENT AND TILT/TURN WINDOWS FOR DOMESTIC APPLICATIONS BS 4873: SPECIFICATION FOR ALUMINIUM ALLOY WINDOWS. BS EN 1279: GLASS IN BUILDINGS. INSULATING GLASS UNITS (SEALED UNITS). LONG TERM TESTING METHOD AND REQUIREMENTS FOR MOISTURE PENETRATION. BS 5268: ALUMINIUM PATIO DOORS. STRUCTURAL USE OF TIMER. CODE OF PRACTICE FOR PERMISSABLE STRESS DESIGN, MATERIALS AND WORKMANSHIP. PAS 024-1: ENHANCED SECURITY PERFORMANCE REQUIREMENTS FOR DOOR ASSEMBLIES. SINGLE LEAF, EXTERNAL DOOR ASSEMBLIES TO SWELLINGS. BS EN ISO 9002: QUALITY SYSTEMS. MODEL FOR QUALITY ASSURANCE IN PRODUCTION, INSTALLATION AND SERVICING. BPF/GGF CODE OF PRACTICE FOR THE SURVEY AND INSTALLATION OF HIGH IMPACT MODIFIED uPVC WINDOWS AND DOORS This code gives guidelines and recommendations for the good practices required for the survey and installation of uPVC windows, including the design and installation of bay windows. BSI REGISTERED FIRM SCHEME Incorporates assessment of quality management system, design/development, type testing of products and continuous surveillance and testing by the BSI. FM31451 QUALITY MANAGEMENT SYSTEM SCOPE Manufacture and supply of a range of white and brown windows. uPVC profiles and beads for the fabrication of doors and windows. Manufacture of conservatory roofing systems to customer specified requirements. BBA ASSESSMENT OF EMERALD'S COMPLETE RANGE OF DOORS AND WINDOWS CONSERVATORY ROOF SYSTEM uPVC ENTRANCE DOORS uPVC WHITE ROOFLINE uPVC WHITE CLADDING uPVC WINDOWS ROOF WATERPROOFING SYSTEM
EMERALD uPVC COMPOUND

We use precision cut uPVC profile supplied by Duraflex on all of our products. It is cut using the most up-to-date high-tech computer controlled machinery. All Emerald products are extruded from 100% virgin compound and are not diluted by second or more generation reground extrusion profile. The glass forms the inner pane of a double glazing unit, with its coating facing the cavity. The coating reflects longer wavelength heat from radiators and room surfaces back into the building. Meanwhile it allows in warming short wavelength solar energy. Conveniently, these short wavelengths of solar energy are re-radiated by internal building surfaces as longer wavelengths, which are then reflected by the coating back into the room. Our high quality compound windows remain retain their original pristine colour and will not become discoloured over time like some of our rivals' inferior quality products.
Emerald's 10 Year Guarantee
We offer a 10-year insurance backed guarantee on all work we carry out. We also guarantee all deposits that are paid to us. This means that even from the point that you pay any deposit to us, you are guaranteed that all money you pay to us is backed by insurance that you can trust. We issue you with a certificate covered by the Plastics Window Federation (PWF). The PWF is the market leader in providing quality insurance protection to customers of its network of member companies. Emerald is a proud member of the PWF. This means that we have been selected from a number of companies large and small that provide replacement windows, doors and conservatory installations of consistently superior quality. The aim of the Federation is really to protect the general public when purchasing uPVC products from its members. What this means is that as well as the continuous monitoring that the PWF does, it also offers an insurance backed guarantee to the customer in case the member company ever ceases trading. This is why you are given an insurance backed guarantee when choosing Emerald. With Emerald you are protected. Emerald offer a full 10 year guarantee on all of our products, covering ever aspect of both materials manufacture and installation. However, a guarantee is only as good as the company that backs it, and the Emerald guarantee is underwritten by a FENSA approved independent insurance company. In the unlikely event that Emerald goes into liquidation then your Emerald products will be covered for the remainder of the guarantee period through the insurance company.

On 1st April 2002 the replacement of windows and doors came within the scope of the Building Regulations for England and Wales. Therefore replacement of windows and doors in your home are subject to the requirements of these regulations. This was one of a number of changes designed to improve the thermal efficiency of our homes and to assist the government in meeting its commitments to reduce CO2 emissions under the Kyoto Agreement. It will also mean that our homes are warmer and use less energy. You can meet your commitments under the Building Regulations by using Emerald, as we are fully approved by FENSA. The FENSA scheme was set up by the Glass and Glazing Federation with the cooperation of the Office of the Deputy Prime Minister, the government department responsible for Building Regulations, as a Competent Persons Scheme. This scheme enables Emerald to certify through FENSA that all installations meet current Building Regulations. FENSA will register your installation electronically with your local authority and send you a certificate which records that we have certified that the installation meets the appropriate Building Regulations. A FENSA registered business such as Emerald is required to understand the regulations and be capable of installing products in your home which meet all requirements. We will therefore advise you on the design of windows and doors, and see that the windows have the correct thermal performance. Emerald is not permitted to fit non-compliant products that would put you or your home at risk. By registering your windows with FENSA you will also avoid any problems should you decide to sell your home at any time in the future. According to Trading Standards, it is estimated that more than 106,000 complaints about rogue traders are logged every year. Disreputable companies carrying out substandard work wastes £1.5billion each year, consumers have to fund the repairs to the damage they cause. Rogue tradesmen are more commonly known as cowboys. They are people that carry out home improvement work without the necessary qualifications and experience. Cowboys take advantage of their customers, often over charging for services and causing damage to homes. Using a window installer registered with FENSA will help you to avoid falling victim to cowboy tradesmen. You can view our FENSA registration details here
THE STRONGEST MAN IN THE WORLD BACKS THE STRONGEST GUARANTEE IN THE WORLD!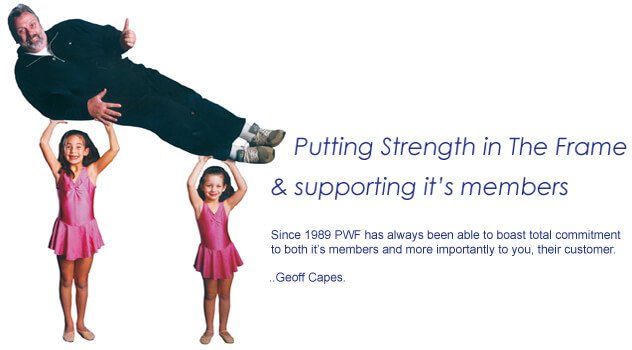 Emerald are a member of the Plastics Window Federation. The PWF is a consumer protection body that provides a safeguard to the public when purchasing any uPVC products. We offer an insurance package with the PWF to all customers when they purchase our products. This provides an added guarantee in that if Emerald were forced to cease trading before your products are installed, your deposit is protected under the PWF's Deposit Indemnity Scheme. Member companies of the PWF must strictly adhere to its codes of practice in terms of product specifications and installation procedure, and are stringently vetted to ensure that they are fully dedicated to ensuring complete satisfaction with every installation carried out.
Finance Options
At Emerald Home Improvements we offer a range of flexible payment options to suit every customer. We accept all major debit/credit cards and cheques, but if you prefer to spread the cost using finance then our options include:
Option 1
Flexible Monthly Finance
7.9% APR Representative
Why not spread the cost of your home improvements up to 120* months with our flexible monthly finance option? Loan terms of 3 to 10 years available. Option to repay the loan early. Minimum loan agreement £5000. £0 deposit required. 180 months available on purchases over £10,000.
Option 2
Buy Now & Pay 2020
19.9% APR Representative
With Emerald Home Improvements you can buy today with absolutely nothing to pay for 12 months! If you choose to you repay the loan agreement in full within the 12 month deferral period then
there's no interest to pay
(£49 exit fee applies). OR you can choose to start your repayments over 120 months. Minimum purchase £1000. £0 deposit required.
Credit is subject to application and status. Other finance options available – please contact us for more information.