uPVC is a great material to use for your external windows. It's easy to maintain, great in harsh weather conditions and is inexpensive when compared to timber and aluminium. It can also be coloured to suit a variety of tastes.
While uPVC windows are a popular choice for many households, there is a wide range of different window styles and sizes to choose from.
We've put together this handy buying guide, to navigate you through the process of looking for your desired windows. We'll discuss everything from the different types of uPVC windows to their price, thermal efficiency and security.
Types of uPVC Windows
There are many types of uPVC windows to choose from and the style is important to your property. You need to ensure that your uPVC windows are strong, sturdy, energy-efficient, fit correctly, and that they open and close in the way you'd like. White uPVC is the most common colour but other colours, like grey, are becoming more popular in contemporary homes.
The different types of uPVC windows you will find when buying windows are:
Fixed Double-Glazed Windows
Fixed double-glazed windows are windows that are purely for letting light into a room. 'Fixed' associates with the fact that this type of window can't be opened. If you have good ventilation in your home, a fixed double-glazed window could work for you.
Casement Double-Glazing Windows
Casement double-glazed windows are the most popular style of upvc window in the UK. This type of window is side-hinged and, in most homes, you'll find two on either side of a middle panel of glass. Casement windows open much like a door – they open outwards. This makes for super easy opening and closing and doesn't take up any room inside your home. Check out our casement windows guide for more information on this type of window.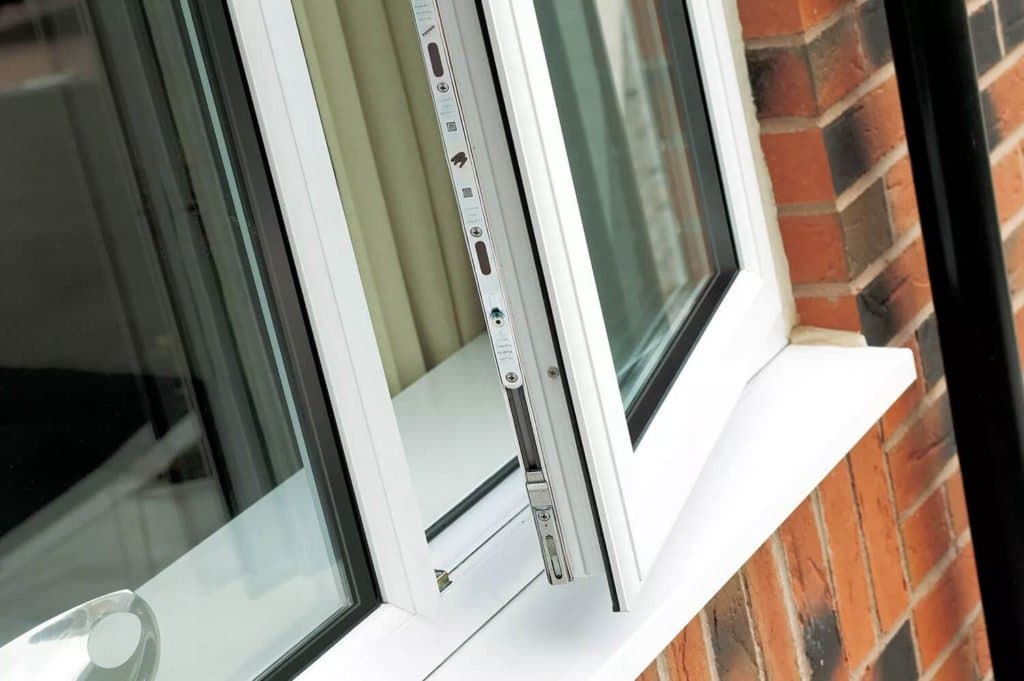 Awning Double-Glazed Windows
An awning window is more often found on kitchen walls or conservatories. Awning double-glazed windows have their hinges at the top of the frame so the window opens outwards from the bottom – in a pushing motion. They're extremely effective for homes with limited space and public areas. However, due to the restriction on far they can be opened, they don't allow for much airflow.
Double-Glazed Windowscapes
Windowscapes are a great choice for modern homes. They run the whole length of a wall – which does make them costly – and let in tonnes of natural light. They're super stylish and work extremely well on properties with large open spaces outside. Even though windowscapes are costly upfront, as they're double-glazed with an A U-value, they'll save you a lot of money in the long run.
Double-Glazed Sash Windows
There are a few different types of sash windows; sliding sash, box sash and flush sash
Sliding sash windows are also known as single and double-hung windows. Sash windows are hung from the top of the frame. To open and close the window, you slide the panes up and down, where one pane of glass will slide behind the other. They're extremely effective if you have limited space available for a window.
Single hung is the most popular. A single-hung window allows one pane of glass – usually the bottom pane – to be moved. A double-hung window allows both panes to be moved.
Flush sash windows are great for those of you who lack wall-depth. Flush sash windows sit flat, at the same level as the wall, without any indentation from the frame – which is what we usually see with windows. Flush sash windows blend seamlessly with its surroundings. They're perfect for properties on the minimalistics-side or for properties that want to bring the outside in, without separating it with thick window frames.
Box sash windows are pretty similar to sliding sash windows in their appearance and operation. But, the mechanism used to control them is slightly different. A box sash window sits in a traditional box frame. Within the box frame there is a rope and pulley system that allows for easy movement of the window. In comparison, a sliding sash window typically has a more modern mechanism called a spiral balance. A spiral balance mechanism is a spiral rod that connects to a spring. This spring provides tension to the rod, that is supporting the sash. A box sash window is perfect for holding double-glazed and triple-glazed glass as it's mechanism is incredibly strong.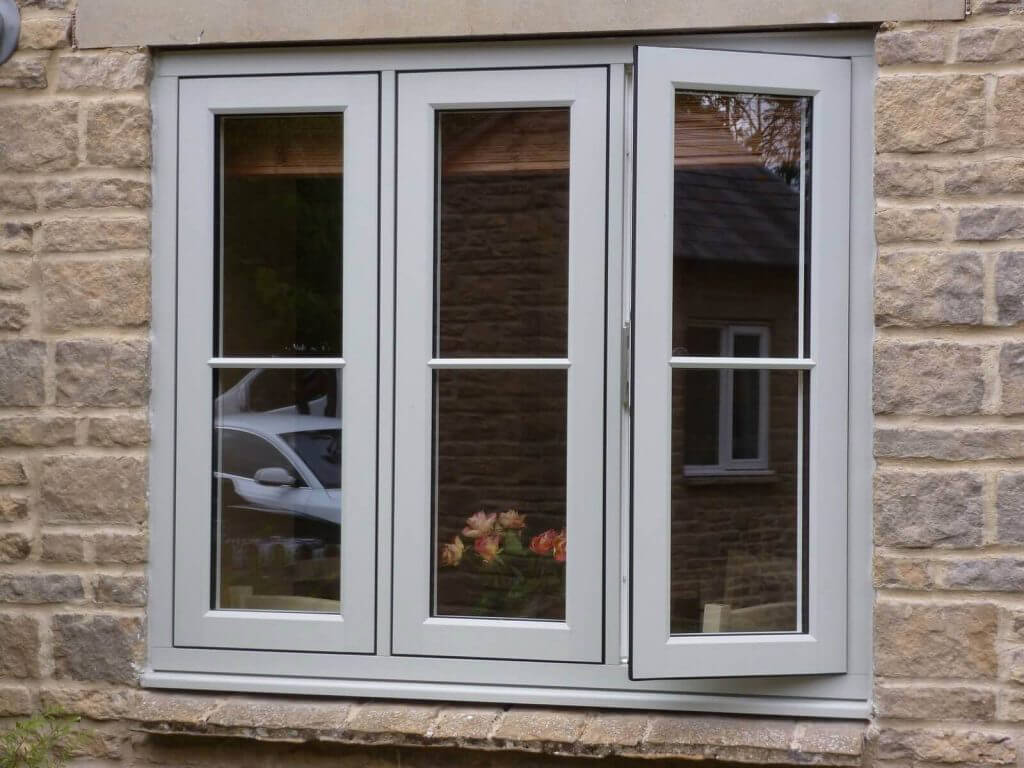 Bay and Bow Double-Glazed Windows
Bay and bow windows were pretty popular in Victorian and Edwardian times. We don't tend to see much of them today – especially in modern homes.
Bay and bow windows are perfect for homes with alcoves. They usually have 3 large panes of glass, 2 of which are curved. Bay and bow windows have small opening windows at the top of each large pane. They're an excellent choice for letting in natural light, and for making use of alcoves, but the small windows don't as well to air circulation as other styles.
Double-Glazed Tilt and Turn Windows
Tilt & turn windows are by far the most superior. If you want a window that does it all, this style is for you.
A tilt & turn window opens outwards just like any normal window. But, it can also be tilted horizontally, back into your home by the works of a very clever mechanism.
Tilt & turn windows are great for airflow, but they're also super easy to clean. The mechanism installed on tilt and turn windows means you gain access to both sides of the window without any hassle at all.
uPVC Windows for Conservation Areas
uPVC windows may be used as modern window replacements in conservation areas however there are a few rules you'll need to abide by.
If you want to replace timber windows with uPVC then planning permission may be required. If you live in a single occupancy house, planning permission will not be needed. This is, unless your home is covered under Article 4 Direction, then you will still need to obtain planning permission.
Replacing timber with uPVC is usually not allowed, however there are some exceptions. Your new uPVC window will need to match the form, glazing, size and design of the original window, for planning permission to be granted.
uPVC Windows for Listed Buildings & Period Properties
uPVC windows are commonly used to replace old and rotting timber windows that have been used on listed buildings and period properties. While this may sound strange, there is a specific type of uPVC window that looks great for older properties.
As mentioned above, if you wish to change the windows on a listed or period building, you may need planning permission. In order for you to pass the planning permission, it's important that you keep the placement and size exactly the same.
The best type of uPVC window for listed buildings & period properties is the sash window. The sash window is a dated style that lends perfectly to old buildings, but with a modern twist of class and the advantage of better security.
Our uPVC sash windows have been designed in a traditional style to not deter away from an ageing building.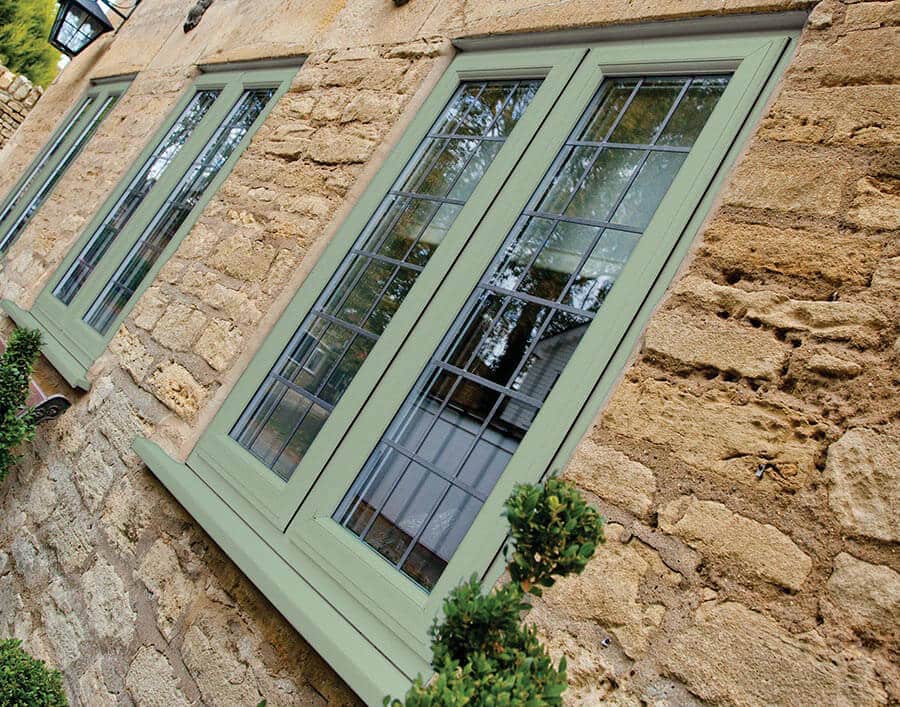 uPVC Window Prices
UPVC windows are the most cost-effective window choice. It is possible to get cheap uPVC windows starting from as little as £500. However, the price will vary depending on the size and style of double glazed upvc windows. You can expect to pay more for larger windows and higher quality materials. Triple glazing also adds to the price. It's best to get a quote for new upvc windows and doors and consider the quality and reputation of your provider. You could pay for lower-priced windows and doors later down the line if the quality and installation aren't of a high standard.
Are uPVC Windows Energy-efficient?
uPVC windows with double, triple or Low-E glass are very energy-efficient. The type of glass that you use ensures that the minimal amount of heat is lost through your external windows. Double glazed windows have a gap between each pane of glass that is usually filled with argon. This helps to minimise heat transfer and save energy. Upgrading to double glazing can save you up to £120 per year, so it's certainly worth considering window replacement.
Our uPVC windows are graded A in U-values. We can ensure that your house will be well insulated, and your energy bills reduced, with all of our styles. Find out more about themal efficiency in our guide to understanding energy efficient windows.
Are uPVC Windows Secure?
uPVC windows are very secure. They're extremely sturdy, bounce back against pressure and durable against all weather types. If you go for one of our double-glazing options, not only are you improving your energy-efficiency but you'll also be protecting your home.
How Long do uPVC Windows Last?
uPVC windows, on average, last around 20-years. But, many things factor into this figure. Depending on the quality of the frame and glass, typical weather in your area, and how well you clean and maintain uPVC windows, they can last anywhere between 10 and 35-years. UPVC windows require little maintenance in comparison to other materials like timber or oak, so you won't have a lot to do to ensure a good lifespan.

All our uPVC windows are weatherproof, meaning you won't find any rot, rust, or warping if you buy from us. With all our uPVC windows, we offer a 10-year guarantee, backed by the Plastics Window Federation, for peace of mind. If you're ready to buy your uPVC windows, you might want to check out our uPVC windows installation guide too!